We have been wanting to climb Ben More for a few years now, but somehow it managed to evade us. So on a bright sunny Sunday morning myself, Andrew and, most importantly, Eva headed off. The journey from Tobermory took about 30-45 mins by car. We parked up near the sign for Dhiseig, on the Ben More estate. The walk starts at sea level and you can even dip your toe in the water if you want.
Off we set, wearing various layers and lugging the packed lunch up the "hill". It didn't take us long to work out it was hot and soon we were wishing we'd worn shorts (not something you often wish for in Scotland in March). The walk takes you initially through some fields with sheep, so best to keep dogs on a lead to prevent sheep becoming worried by curious pups. After some time we reached a lovely burn. The water is crystal clear and very refreshing after the climb we had managed so far.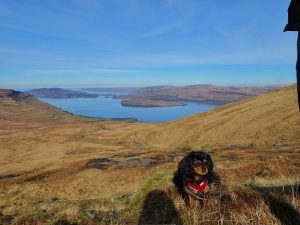 After stopping for a quick drink we crossed the burn and headed on our way. The journey became steeper, so would only recommend for people who have a reasonable level of fitness. Eventually we reached the summit. What a view…well that should say views, as there was so much to see. We could see a snow topped Ben Nevis, over to the isles of Lunga and Staff and also the small isles of Canna, Rùm, Eigg and Muck. Simply stunning.
The journey took us about 5 and half hours, including the stop at the top to enjoy the view and also stopping for lunch at the waterfalls on the way back down. It was an amazing experience but was hard work.